Contents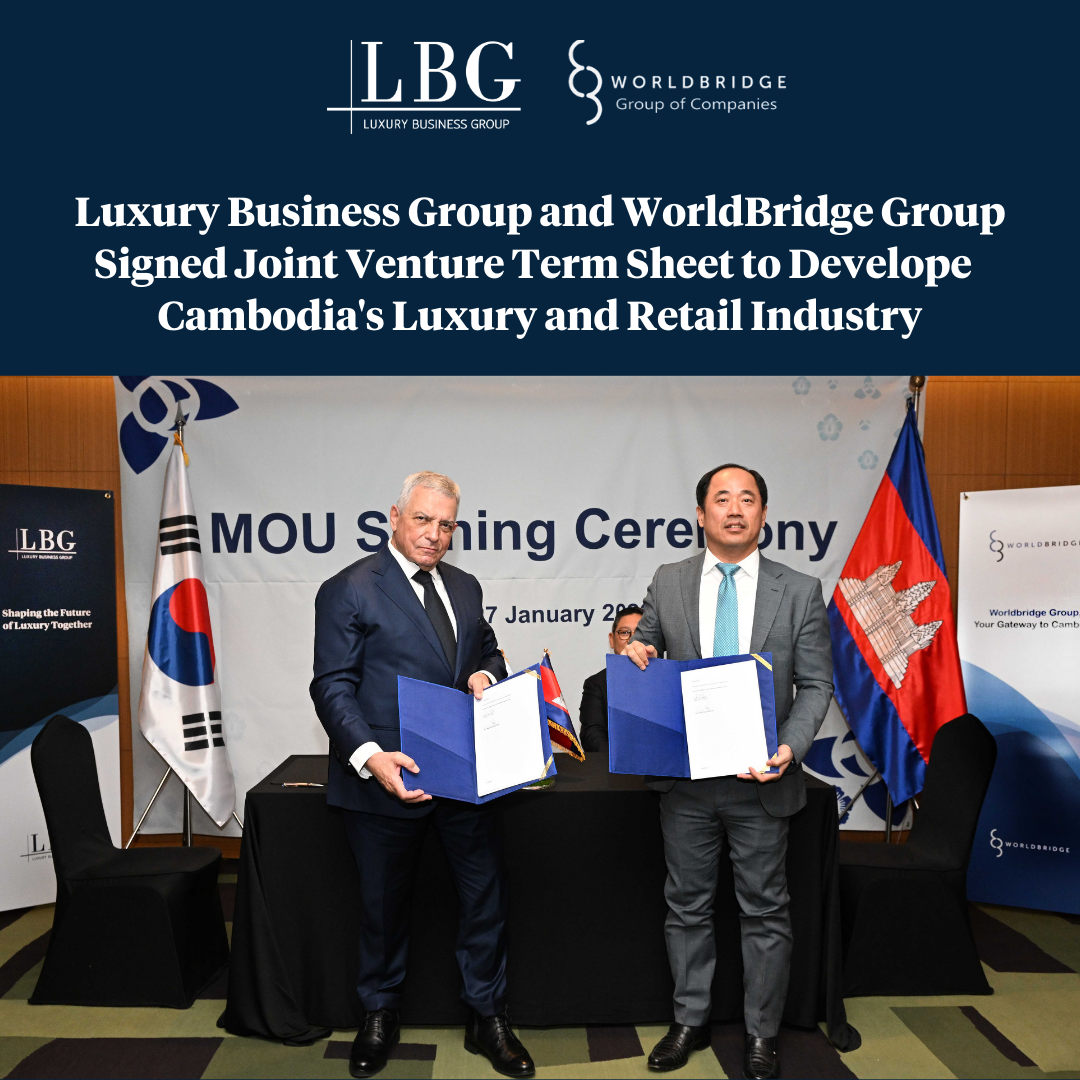 Luxury Business Group and WorldBridge Group (Cambodia) Sign Joint Venture Term Sheet to Develop Professional Training and Consulting for Cambodia's Luxury and Retail Industry
2023 January 27th (Friday) [Seoul, South Korea] – Luxury Business Group (LBG), a consulting firm specializing in luxury and retail, announced the signing of a joint venture term sheet with Cambodian conglomerate WorldBridge Group on training and consulting services for luxury retail professionals. LBG was founded and headquartered in Seoul, Korea as a foreign-invested company, and this agreement is a new step of the LBG's overseas expansion in Asia from Korea"
The signing ceremony was held at the "Korea-Cambodia Business Forum" at the Intercontinental Seoul COEX Hotel on 27 January. Key officials attended the event from both companies, including Daniel Mayran, Founder and Chairman of Luxury Business Group, and Neak Oknha Rithy Sear, Chairman of WorldBridge Group, alongside senior delegates from the Royal Government of Camboida, including H.E. Mr. PAN Sorasak, Minister of Commerce of Cambodia, and H.E. SOK Chenda Sophea, Minister Attached to Prime Minister and Secretary General of Cambodia Development Council.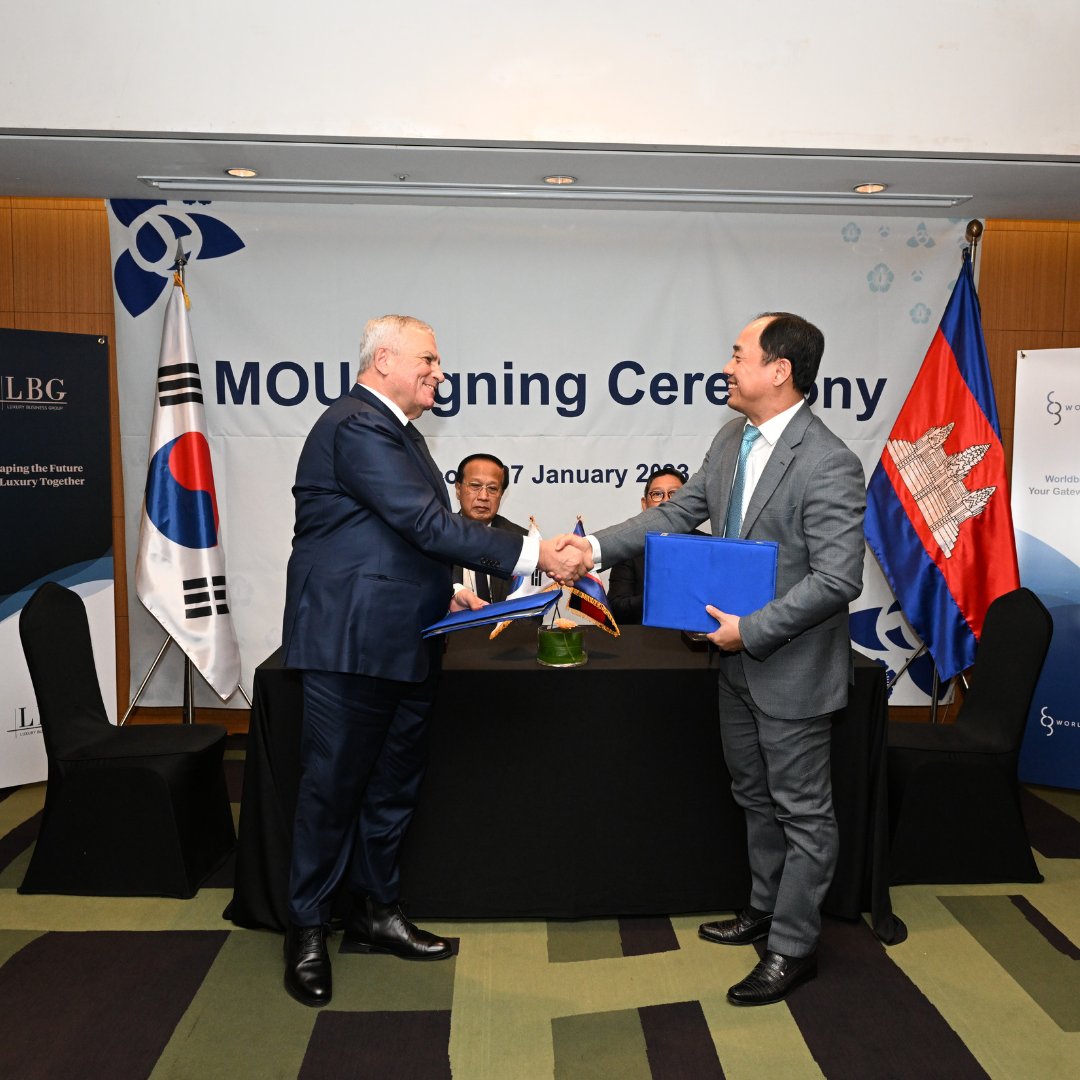 Neak Oknha Rithy Sear, Chairman of WorldBridge Group, said, "The development of higher standards in the retail sector is critical for serving the Cambodian consumer and capturing the full potential of tourism dollars in the domestic market and travel retail such as downtown duty- free. Top global brands, both in the luxury and premium segments, require professional skills that are currently in short supply. Advancement of the Cambodian retail sector will require significant investments in human resource development."
Daniel Mayran, Founder and Chairman of Luxury Business Group, Said, "Cambodia is in the center of Indochina and is not far from the huge markets of India and China. In addition, with Thailand and Vietnam as neighboring countries, Cambodia is expected to grow into a huge luxury market in the future, and it is a significant market strategically. We will provide a differentiated consulting approach and insight into the challenges and responses faced in the luxury and retail field and focus on enhancing the quality of service of human resources through customized solutions."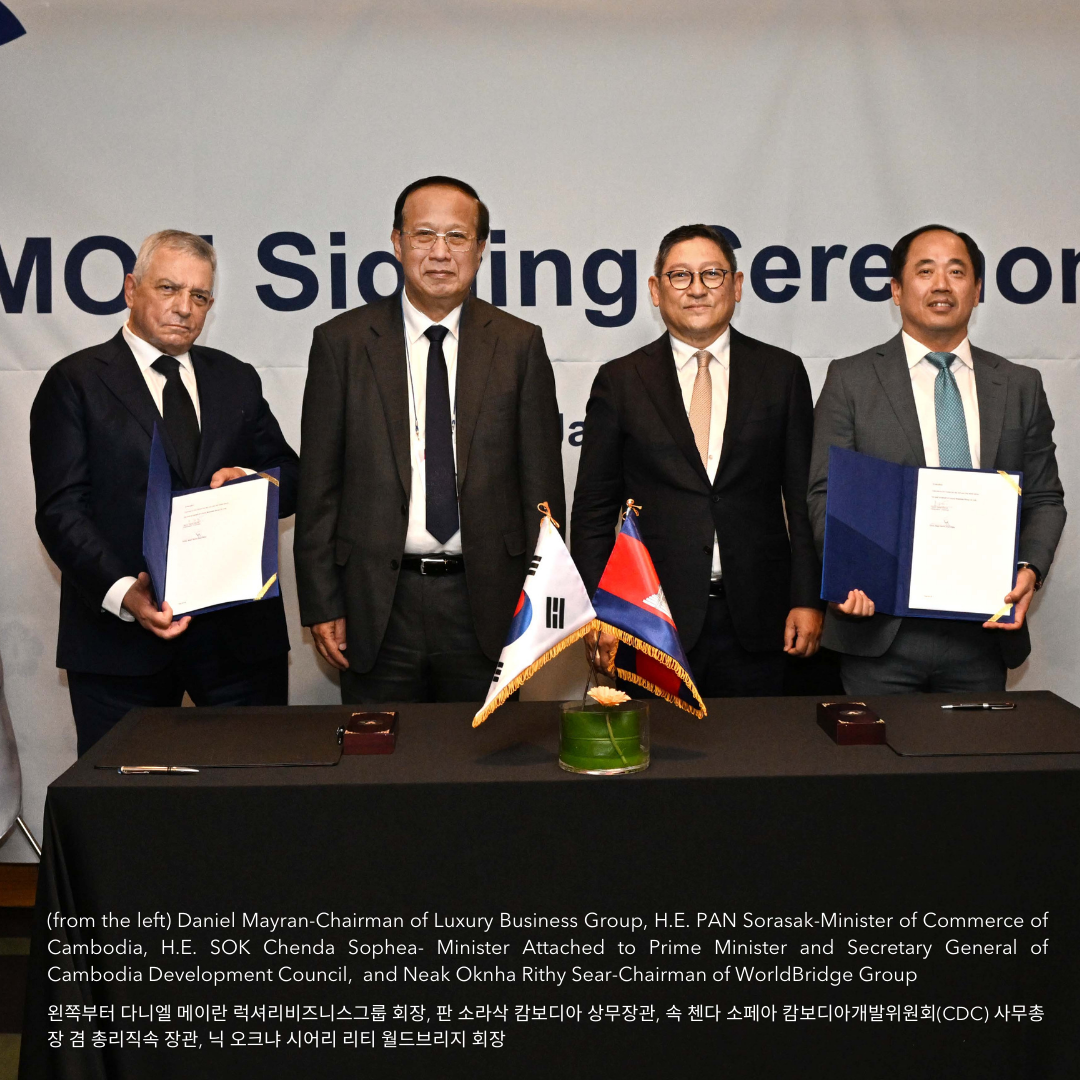 Cambodia has an average economic growth rate of 7% every year, and the development of hotels, shopping malls, resorts, high-rise buildings, and various social infrastructures is rapidly developing. Among them, The Peak Complex Shopping Mall is located in the center of Phnom Penh, which has excellent access to historical sites and entertainment facilities, consists of two 55-story residential towers, an office, a five-star Shangri-La hotel, and the first luxury shopping mall (25,000 sqm) scheduled to open in Q4 2023.
The two companies will discover and actively participate in developing various business opportunities in the future for the continued development of Cambodia's luxury and retail industry, not only for The Peak Shopping Mall.
In particular, Luxury Business Group aims to differentiate Cambodia's luxury industry and accelerate its growth into world-class retail playground by providing consulting on ▲ recruitment and training for luxury brands and the retail sector, ▲ operational service manual development, ▲ store and brand human resources organization strategy, ▲ store and luxury brand HR management know-how, and leadership.