LBG Service from A to Z
Your Success through
LBG's Optimal Business Ecosystem
Our integrated services are organically connected to complete a complete ecosystem. Through the business ecosystem, we have been getting closer than ever to achieving our vision of a group supporting Luxury and Premium businesses at all phases of development.
With this business ecosystem, LBG creates synergies between our business units and delivers the most comprehensive services to our clients.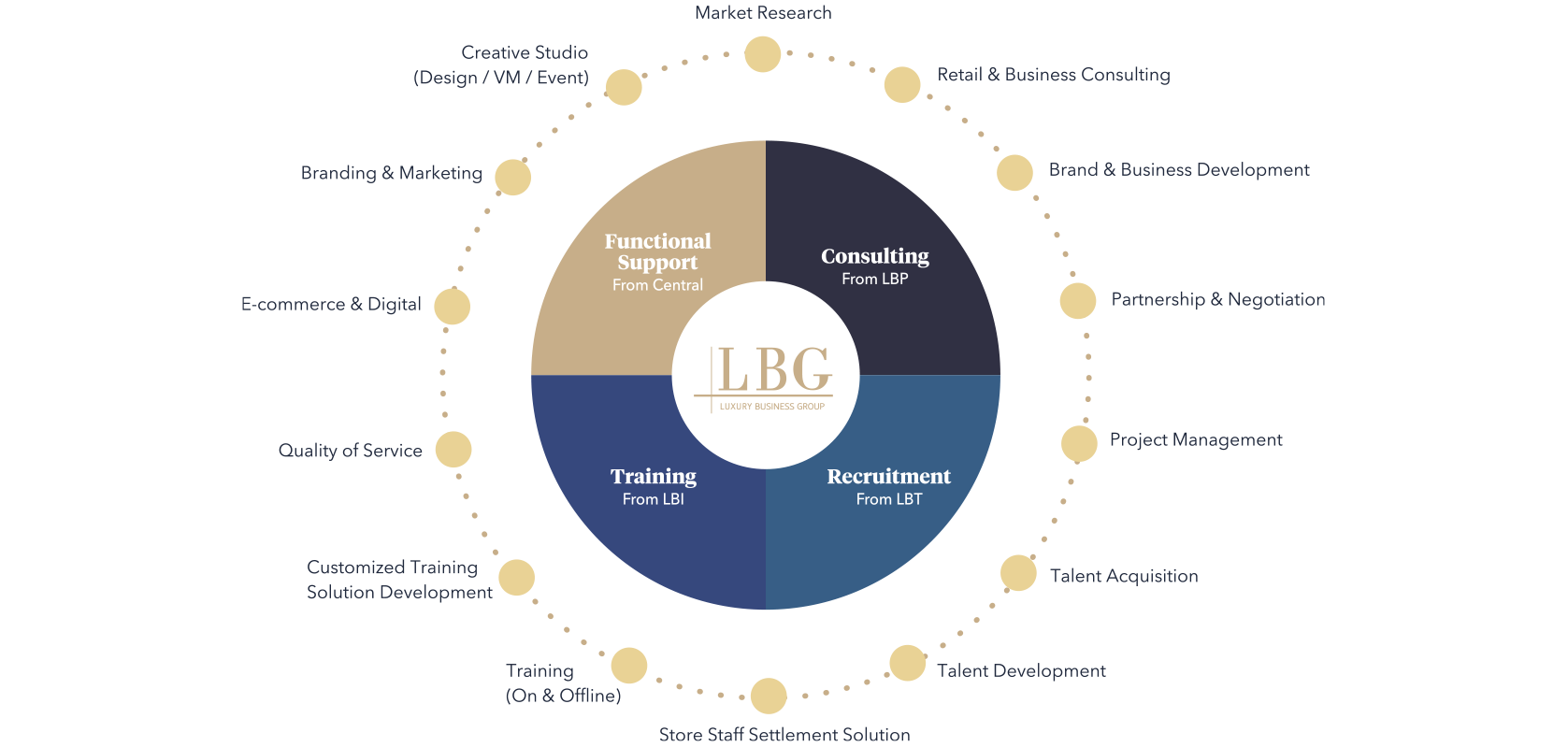 Six Industries of Expertise
Luxury Business Group has developed six specialized categories with missions of delivering consultation, recruitment, and training that directly respond to the needs of the following detailed industries.
Fashion &
Accessories
Luxury & Premium
Ready-to-Wear
Leather Goods
Eyewear / Shoes
Perfumes &
Cosmetics
Skincare & Make-Up
Perfumes
Body & Hair Products
Cosmetics Manufacturing
Watches &
Jewelry
Fashion Jewelry
Fine Jewelry
Luxury Watches
Food &
Beverage
Shopping Mall
Restaurants & Bar
Franchise & Chain
Culinary Art
Hospitality
Hotel & Resort
Travel & Tourism
Entertainment
Convention & Event
Lifestyle
Automobile
Architecture & Interior Design
Digital & New Technology
Leisure & Sports
Creative Studio
Creative Studio of LBG supports an in-depth understanding of brand identity through visual merchandising, design, and branding and execute unique and exclusive content pursued by luxury brands by planning luxury online/offline events according to customer needs. LBG has a dedicated team that respects the brand image and understands that visuals and their implementations are significant assets to the success of the client's business.
e-Commerce & Digital Marketing
The Most Suitable Business Plan
We can offer an optimized business plan for each brand thanks to our expertise and in-depth knowledge of the retail industry, extensive market research, customer segmentation, competitor analysis, pricing and marketplace assessment.
Elaborating an Effective Digital Marketing Plan
Our dedicated team identifies and activates the key factors of growth in order to accelerate our brand partners' digital expansion. We build brand awareness and maximize brand exposure through effective marketing plans to boost sales. Using a variety of tools such as search engines, social media platforms, influencer collaborations, online communities, performance marketing and media buying, we help capture new sales opportunities and increase customer engagement.
Bluebell Group – Our Strategic Partner
Bluebell Group, our strategic business partner company, closely and exclusively exchanges key intelligence information and resources with Luxury Business Group and becomes a strategic partner of us for brand management and store operation. Bluebell operates through retail, wholesale, e-commerce, travel retail, and its own omni-concepts and tailor the business model in a flexible way to suit different business cases.